Virtual Local Phone Number - VOIP DID Telephone numbers | Virtual numbers
It is a local phone number in a country's specific area code, not associated with phone line and designed for redirection purpose only. It is good for business people or for people living abroad . They can receive all the incoming calls in a country of their location(with calls forwarding)and can keep the callers think that they are somewhere next to them. It could be done in a couple of ways depending on a countries involved. We have virtual local phone numbers in over 90 countries for example we got a request form US customer about solution to communicate with his relative in France. The best solution turned out to be virtual local phone number in France with call forwarding to skype in US. This was the cheapest way and the cost of the call would only be the local call cost in France. We have different ways of calls forwarding -from skype and SiP(which are free) to local and mobile phones and email.The incoming call can be answered by pre installed IVR and redirected to your email. We have virtual local phone numbers (including toll free numbers) in over 90 countries and our multilingual customer support is ready to take your call and guide you through registration procedure.
See available virtual local numbers HERE
Virtual local phone number or DID number is an entirely new definition of telephony. What is meant by virtual local phone number? That is an actual number of a country. What we provide? We can set up call forwarding to your mobile phone, land-line phone, SIP, IP phone (soft switch), or Skype. Why do you need it? You can receive phone calls to your mobile from all over the world. And all this in low prices. Virtual local phone number is called in such way because it is not really existing but you can still use it. If you don't want your customers to know your real location you can use virtual local phone numbers. You can not call from such a number. Virtual local phone numbers only produced to receive phone calls.We have also virtual local phone numbers with SMS in USA, Uk and Canada.
virtual local phone number is a great way of using technology innovation to your own benefit. Many people do not even know what is a virtual local phone number or DID number and what is it good for. The major purpose the virtual local phone number serves is a remote receiving of phone calls with their consequent redirection. It allows the user to be anywhere in the world and receive phone calls which were dialed to the subscribers chosen number.It is very convenient tool given the fact that redirection destination can be also chosen by the virtual local phone number's subscriber. There are few ways the incoming calls to local DID number can be diverted. They can be diverted to home or office landlines,cell phone, Skype , SIP., or Voicemail to email. This way it will be very hard for subscriber to miss the call.He can choose a complex forwarding, providing couple of alternative telephone numbers where he can be reached. Voicemail to email will send the recorded message to subscriber's email in case if he missed the call.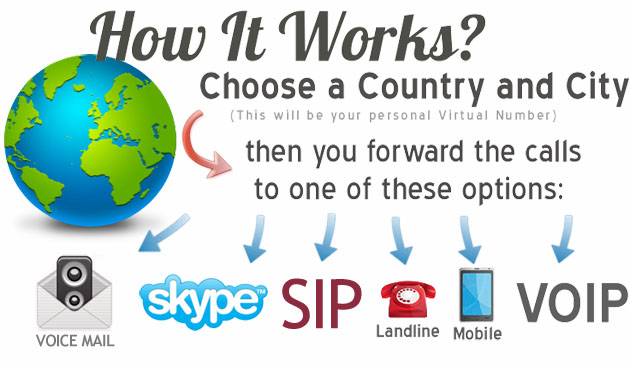 This is a good way to start ,if you are not very familiar with a technology and virtual local phone number in particular. If you are more advanced, there are many ways and many products that we are offering that can enhance your experience. You can add up a virtual fax number function which would let you receive faxes with redirection to email,calls recording and calls statistics,which would let you keep track of your conversations and keep records on file.There are many other functions which may be suitable for businesses and call centers and we are offering them as a package at very affordable price.
If you are living in US, adding US virtual local phone number to your VoIP service, you can replace your phone company and even keep your phone number transferring to VoIP or to a traditional phone number and save 50% or more on your phone bill.
Living in any country in the world and have your family, friends, or business associates call you dialing a local number. This way they pay for only a local call in their country to reach you anywhere in the world.
If you would like to receive calls from any phone in the world, Look local by using virtual phone numbers in areas you don't have business premises.If you purchase a US virtual number, your customers will think that your business is located in USA, while you are receiving those calls in anywhere in the world.buy virtual number Now

local phone number advantages:
Instant Activation

Virtual Number available instantly in over 90 Countries and 6500 cities

Make and Receive calls using your virtual number

Your customers, employees or family will be able to reach you anytime and anywhere using a local number

Have a business located , a local presence in over 90 Countries and 6500 cities

Have a large number of customers

Save the cost of long distance calls -reduce telephone calls cost

Conversation сonfidentiality

call forwarding to your mobile, landline phone, voicemail, Skype or SIP-device (SIP phone,SIP Software)- forward calls coming in on your virtual number to an existing phone. Complete call forwarding if busy, no answer or offline.

Virtual Numbers Can Save You Time, Money, And Effort

No servers, and desktop handsets, required

Convenient call management online interface - simple and instant online tools to connect it with your home,office...

Virtual Numbers are aliases for your VoIP account number that traditional phones can connect to.

Virtual Local Phone Numbers with no long term contract

call history, so you can separate calls coming into your virtual phone number

Hold Music/Messages
Buy a local telephone number from your home country
View the list of available countries and local virtual numbers prices
call forwarding pricing (free to Skype and SIP) click here
How does virtual number work?
When someone calls: You can
- answer : from your mobile phone, hand line or Skype
-send them to Mail (voice mail)
- give them a busy signal
- tell them the number is out of service, or play a custom message you create.
* With telnum,net virtual phone service, you can call from your virtual phone number using our SIP Phone software online or our software on your mobile phone(Android,i-phone ...)
If you have any questions, please contact us : This e-mail address is being protected from spambots. You need JavaScript enabled to view it

How to Buy a local telephone number from your home country?
1- Just sign up and choose a virtual number with any area code here

2- Use our simple and instant online tools to connect it with your home, cell, work or any other phone.
telnum.net give you:

- A virtual phone number in minutes, which lets you protect your private phone number.

- Virtual numbers to small, medium and large businesses and for personal use.

- A local telephone number from your home country. Your family and friends call you as a local call in over 90 Countries and 6500 cities .